Tue, 31 March 2015
PS32: Fellow Proud Nerd Steven Anderson
In episode 32 of Principally Speaking, I have a great time connecting with Steven Anderson, a.k.a. web20classroom on Twitter. I discover that we were both science teachers and both were proud members of the marching band, although he was likely much better at the tuba than I was at the trumpet. More importantly, Steven shares insight regarding Administrators and technology, the power of being connected, and ideas from his latest book, Content Curation: How to Avoid Information Overload.
You can check out Steven's website and blog here.
This is the first episode of Principally Speaking to be sponsored by Corwin Press. Thank you very much to Ariel Price, Lisa Lysne and everyone else at Corwin for your support!
---
Tue, 24 March 2015
PS31: Dan Butler Leads Two Elementary Schools (and still has time to talk to me?!)
In this 31st episode of PS, I connect with Dan Butler. Dan was gracious enough to talk about his experience as the principal of both Epworth and Farley Elementary Schools in Epworth, Iowa. He also shared some great resources on the show:
How Dan Uses Google Forms When Collecting Observation Data
Continuous Improvement at Farley Elementary School
Here's how you can connect with Dan and check out his blog:
He also is a co-moderator of the awesomeness that is #IAedchat, which happens every Sunday night at 9 PM ET / 8 PM CT.
---
Tue, 17 March 2015
PS30: Teach Like a Pirate with Dave Burgess
In this episode I speak with former social studies teacher and current author and speaker Dave Burgess. Dave is of course the author of Teach Like a Pirate. We talk about the TLAP philosophy and its connection to leadership. Dave will be the keynote speaker on July 21 at IntegratED @ East Noble High School if you happen to be in Northeast Indiana like me. You can register for IntegratED now or apply to present at the link above.
I'm very excited to be working with Jennifer Brower and Andy Deatrick on EdCamp Fort Wayne, which is taking place July 23 @ The Summit in Fort Wayne. Check out this awesome picture of the Ideation Lab, one of the amazing rooms we'll be using to collaborate! If you're interested in securing yourself a spot at this free unconference, click here to register.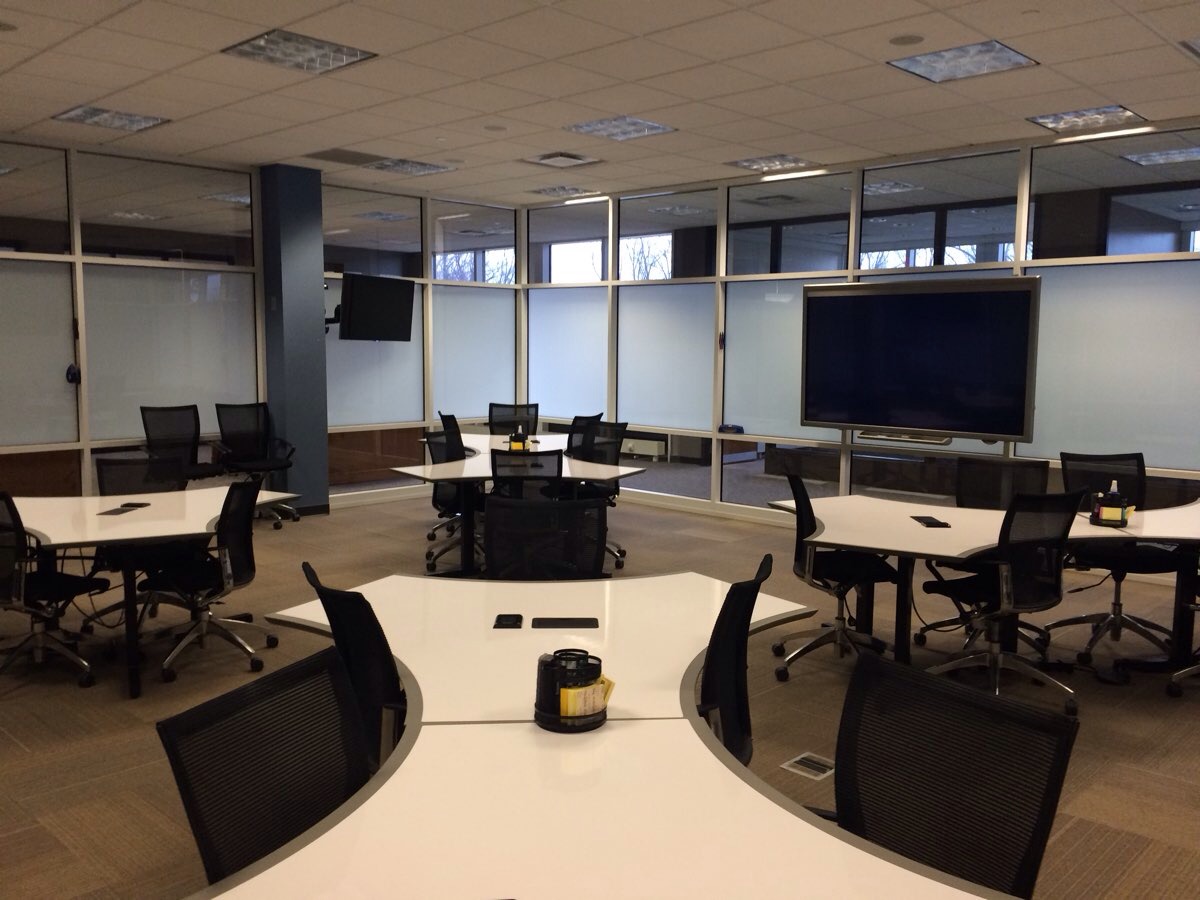 ---
Tue, 10 March 2015
PS29: Rethinking High School Design with George Philhower
In the 29th episode of the show, I have the privilege of speaking with George Philhower, Assistant Superintendent at Western Wayne Schools in Cambridge City, Indiana. In this district and at Lincoln Jr./Sr. High School they are developing a school-within-a-school model that allows students to move at their own pace and take their own path to success. George explained that he has leaned on the Innovations High School in Salt Lake City, Utah for support and that their Principal Kenneth Grover has been a great deal of help in this process. Mr. Grover will be presenting at the Richmond eLearning Conference this summer if you're interested in meeting him and learning more about this school model. Here is a very inspiring presentation about his personal philosophy and vision for Innovations High School:
Here is George's Twitter and his e-mail is gphilhower@wwayne.k12.in.us.
Next episode I will be talking with the inspiring Dave Burgess, author of Teach Like a Pirate. He will be the Keynote speaker at the Integrated eLearning Conference at East Noble High School on July 21 in Kendallville, Indiana.
To see the other eLearning conferences all around Indiana this summer, click here.
---
Tue, 3 March 2015
PS28: Leading Like a Pirate with Beth Houf
In Episode 28 of the show, I have the privilege of connecting with dynamic principal Beth Houf, Principal at McIntire Elementary in Fulton, Missouri. We talk about how initiatives like positive referrals, optional PD, and the McIntire Online Read Aloud have strengthened her school. She also relates a story about how she subbed for a full day back in November, and it inspires me to want to start the T.O.D.A.Y. movement, or Teach One Day A Year.
---